Image via Complex / Alex Henery
Franz Lyons, the bassist for Turnstile, as seen at Rolling Loud Miami.
After debuting in 2015, Cynthia Lu's brand Cactus Plant Flea Market (CPFM) swiftly became a significant force in streetwear because to partnerships with brands like Ye and Nike. With the Swoosh, the pair ignited 2019, releasing their debut pair of shoes together on the Air Vapormax 2019. The Air Flea 1 became CPFM's official signature shoe with the company in 2022 after debuts like the Blazer By You "Sponge" before that.
Now that Franz Lyons, the bassist for Turnstile, and Complex have provided us with an early preview of the Air Flea 2, we know what to anticipate. The new style, which was spotted at Rolling Loud Miami, features a waffle tread that extends up to the toe cap and heel in a Balenciaga-like pattern. A sizable white Swoosh covers two midfoot straps on its upper, which appears to be made of a synthetic material that resembles neoprene and breaks up the otherwise all-black design. The shoe contains a number of co-branding components, including references to the Flea 2 moniker on the tongue and heel tab. The pairs complete the appearance with a snap button system that enables other ornaments to be affixed to the shoe, providing the wearer personalization options like the large Swoosh, emblems, and other branding hits.
Regarding the impending Air Flea 2, neither Cactus Plant Flea Market nor Nike have yet released any information. Keep checking back for details on the new pair, which should be available by the end of 2023 from Nike and a few other stores.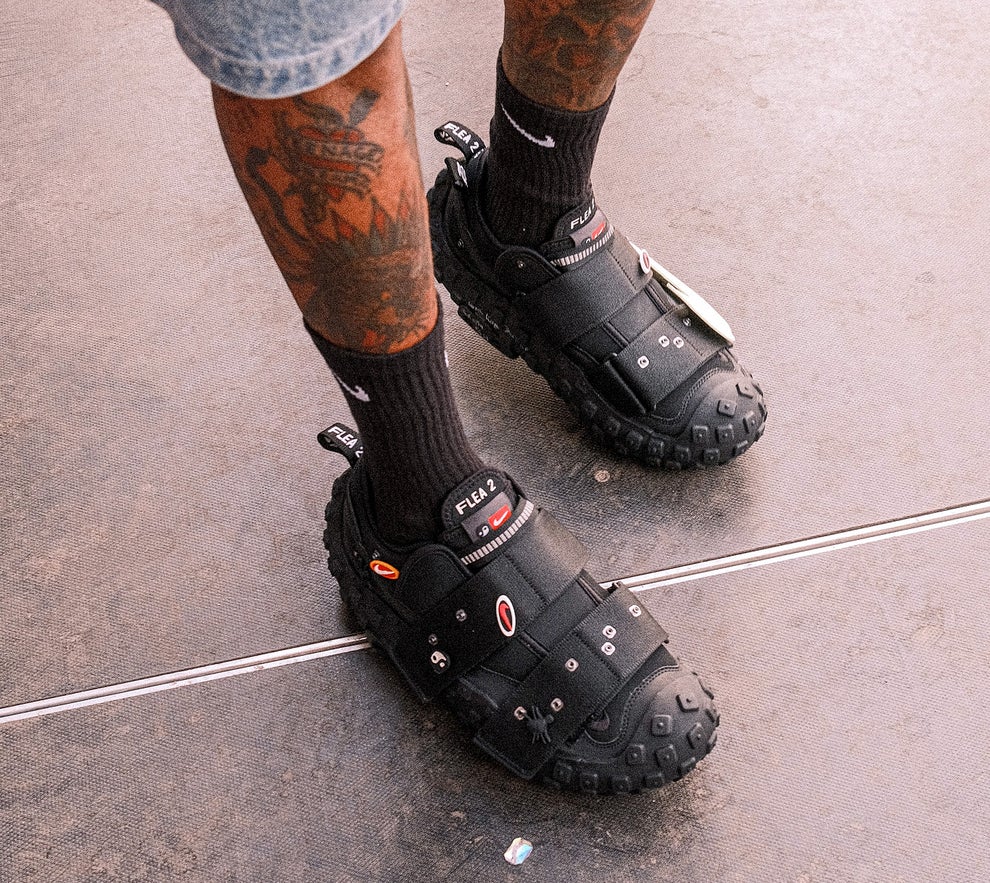 Image via Complex / Alex Henery
Disclaimer: We aim to provide the latest updates in the fashion world. However, Hype Vault cannot verify the reliability of any unauthorized leaks or rumors unless this information comes directly by the brands themselves.